Hardscaping is the non-living landscape elements made of stone, bricks, concrete, or metal. Softscaping is the living elements like soil, trees, flowers, grass, and shrubs.  A well-balanced landscape design will include an attractive combination of both hardscaping and softscaping elements. Hardscaping is the foundation for softscaping.
When created with an eye for detail, the blend of the two will capture elements of art, botany, and architecture, to create landscape design magic.
Put simply, hardscaping is the non-living elements of a landscape design such as walkways, patios, retaining walls, firepits, and driveways. Some elements of hardscaping serve purely practical purposes to create well-defined land areas suitable for planting. 
Hardscaping elements take on different forms based on a homeowner's preference. Landscape design companies will offer a variety of hardscaping materials so your project can include different elements to fit the look of your landscape.
Main hardscaping materials include:
Wood
Faux Wood
Concrete
Brick
Tile
Loose Stone
Solid Stone
Pavers
Metal
Practical hardscape features might include:
Fences made of wood, vinyl, PVC, or metal
Retaining walls to convert a slope into a flat area, to create a planting area, or to prevent soil erosion
Walkways to direct visitors or customers and create safe passage to an entryway
Other elements of hardscape serve to draw visitors into the design. These hardscape elements allow visitors to interact visually with the landscape, through eye-catching details
These hardscape elements create focal points for visitors:
Other hardscape elements allow visitors to immerse themselves in the landscape design, within designated areas. These features might include:
Patios or decks for sitting, relaxing, and/or observing
Walkways for navigating without disturbing the landscape
Gazebos for central areas of relaxation
Pergolas or structures to provide shelter from the elements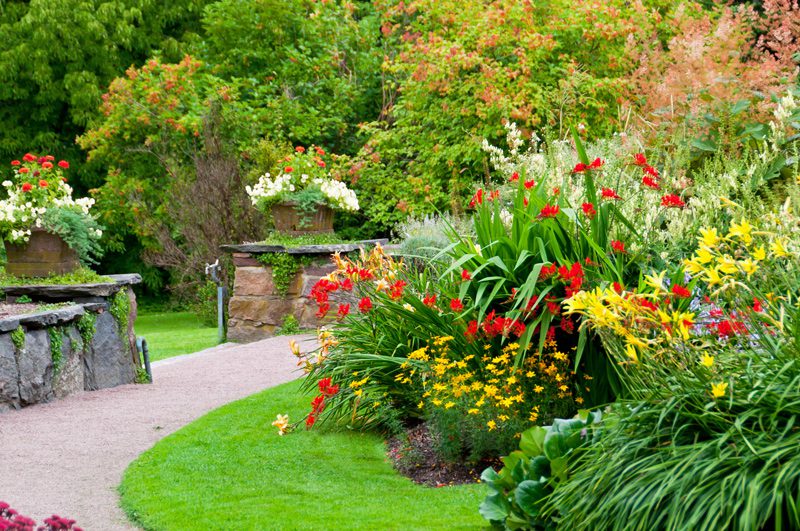 Softscaping elements include all the perennial and/or annual plants in your landscape design.  This includes your grass, trees, and the soil. Well-planned softscaping should create an optimal balance of living plants within the hardscape structures. 
Planning considerations should include seasonal issues, such as frost or heat. Many landscape designs incorporate plants to capture the color of the seasons, along with others that can be enjoyed year-round.
Choices for land cover and accent plants include:
Trees
Shrubs
Vines
Groundcover
Accent plants
Flowering plants
Unlike most hardscaped elements, softscaping requires constant management from the homeowner on a monthly, bi-weekly, or even weekly basis if you want your yard to maintain its beauty and appeal.
Softscape maintenance and management includes:
Weed removal
Mowing
Grading and Drainage
Planting
Aerating
Pruning and Trimming
Watering
Fertilizing
Softscaping elements will add color and beauty to your landscape, and hardscaping elements add focal points, access, and practicality to your outdoor living design.
Landscape Solutions is proud to offer expert landscapers to create beautiful, striking landscape designs that include balanced hardscape and softscape elements. Contact us for more information about creating your outdoor living space.