Landscape Drainage Solutions
Landscape Solutions can design and install a landscape drainage system that is ideal for the needs and requirements of your residential or commercial property. Drainage Systems are installed to control the amount of water flow into your landscapes, gardens, lawns, and basement or foundation.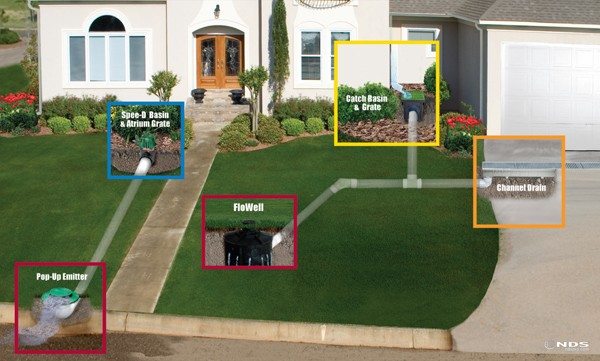 The Right Amount of Water is Key
Water is the key element to healthy lawns and gardens, but too much water can cause serious damage. It's important to get the right amount of water to your landscaping.
Installing the correct type of drainage system for your particular property will regulate the amount of water your landscape is receiving, resulting in a much healthier looking property.
Drainage is very important when it comes to various environmental factors such as stormwater runoff. Increased stormwater runoff can erode streams and wash sediment down into receiving waters. This runoff causes  property erosion and reduced water quality.
By installing a drainage system you can infiltrate runoff into soils, re-distribute water to other vegetation, or detain it for other use.
Surface drainage collects water from the surface and redirects it elsewhere. This drainage system typically collects rain water before it has a chance to enter storm water systems or pollute waterways.
Surface drainage requires some type of channel or ditch by re-shaping and grading the surface of the land to eliminate puddling and long term saturation of the lawn or gardens.
The requirements for surface drainage vary depending on topography, soil, the amount and type of foliage and the climate.
Careful planning and design are essential to ensure proper drainage.
A subsurface drainage system is installed beneath the soil surface and is typically used for landscapes, gardens, and behind retaining walls.
Pipes covered in geotextile fabric are designed to collect and move excess water away.
Subsurface drainage systems require professional planning and installation, but if they are well-planned and constructed of good quality materials, they will function well for a very long time.
The type of subsurface drainage is determined by the topography, the soil, and the number of trees within proximity to the area requiring drainage.
Land Clearing & Excavation
Landscape Solutions provides land clearing and excavation on your commercial or residential site.
Your land will be cleared of all plant material and debris for site preparation and/or drainage correction. We remove brush, trees, stumps, rocks, and any other obstacles blocking the completion of your project.  
Our land clearing services are available year-around.
Please contact us to discuss the needs for your site.
From a Valued Customer…
"Landscape Solutions did extensive landscaping at our property including drainage so that both rainwater front and back and effluent from 2 sump pumps was shuttled to the street, installation of rock retaining walls, construction of a large backyard pond with waterfall, lighting front, side, and back, movement of prior plants and trees as well as installation of new ones around the pond, newly already present. Previously we had hired this company to till and grade the rear property following construction of a porch and expanded deck.
Throughout this process Landscape Solutions worked closely with us on the execution of various designs and architectural plans. The principal at Landscape Solutions, Bill Schau was prompt in responding to inquiries both by phone and by email and providing suggestions to resolve any issues arising and suggesting vendors for other services. He worked closely with his crew, and they were all very professional, neat, and thorough. We recommend them most highly."
Arrange for a landscape consultant to meet with you and take that first step to enhancing your property and increasing the value of your home.